prk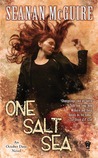 One Salt Sea by Seanan McGuire
My rating: 5 of 5 stars
Just when you think McGuire's done her worst, she throws in a kidnapping and you realise no-one is safe.
As well as some cracking plot, this book added some fantastic back story and world building, and is the first, but probably not the last, in the series to get the full five stars.
Mirrored from P.R. Kaye's Presence.